Spa treatment and DAILY yoga class are available all the time at our agua spa
Agua :
Spanish for water, this is where we nurture ourselves, a shelter for tranquility and harmony. In Agua Spa, we encourage your mind, spirit and physical wellness through the innate use of a powerful element: Water. Please know all of our water treatments and rituals are based on ancient knowledge and practices from our pre-hispanic ancestors of México.

Rituals
Connect with your inner self
-
 
APRHODITE RITUAL
60 min. / For women
Extraordinarily soothing
The principle of the creative feminine form, combined with the power of aromatic flowers form a symbol of love, an offer to the gods. a warm oil, infusioned with exotic flowers is massaged over your body sending you into a deep sense of relaxation.
LEMON RITUAL
60 min.
Energetic
Lemon is a natural purifier, ancient Mayan healers used it to remove disease and body heat from the sick. Expect to be revitalized by this magic citric and the dynamic movements of your therapist.
TZOLKIN RITUAL
60 min.
Sunburns or delicate skin
Women of the African desert used Karité butter to protect their skin and their family´s. this rich and organic butter is generously applied with a soft massage, relieving from pain and guarantees to renew the skin's elasticity.
COUPLES RITUAL
60 min.
Recommended for couples
A sensual massage complemented with aromatherapy, candles and music. the ideal treatment to share with your loved one, indulge.
TLALOC RITUAL
60 min.
Deep tissue massage
This intense massage unstresses muscles and fibers using marjoram essential oil, allowing the natural body energy flow freely, a very emotional stimulating massage.
SWEDISH RITUAL
90 min.
Relaxing
This ancient technique is one of the most instinctive, its effects benefit and intervene within, in order, the vasomotor reflexes, neuromuscular and psychometrics on a skin level, the muscular connective tissue of the central system. the target of therapeutic Swedish massage is to relieve pain, muscular contractions, and to increase rest and relaxation.
** For Spa reservations, pricing and availability please contact front desk directly **

Body Wraps
Aromas & textures of mother Earth
-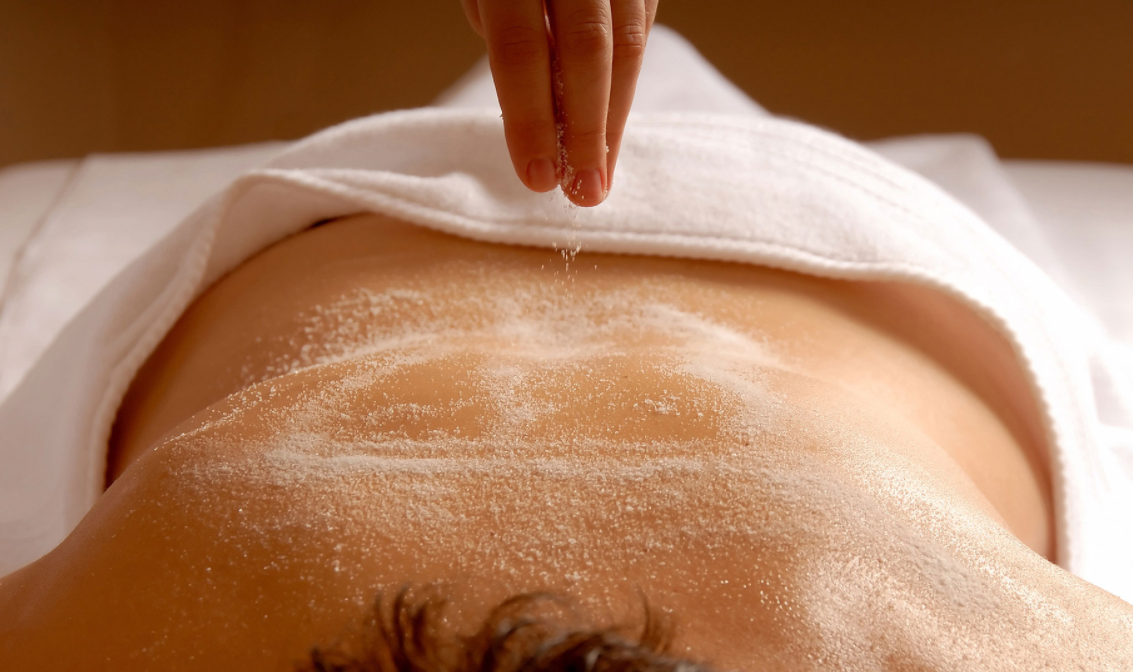 NOURISHING
120 min.
Dry skin or sunburn
This is a unique treatment using Karité butter, infused with essential oils such as tangerine, lavender and myrrh. Karité is a tree native of the african savannah, its fruit is gathered and dried to cold press to obtain the called "Karité butter". traditionally, only women are allowed to collect and handle this fruit making it exclusive beneficial to trader women, this mystic butter is revitalizing, protective, reduces wrinkles and improves your blood circulation! Enjoy this treatment brought to you by the hardworking african women.
EXFOLIATION & MASSAGE
90 min.
A soft and purifying skin treatment which helps
with relaxation.
EXPRESS RELIEF ALOE VERA WRAP
120 min.
Dry skin and sunburns
The soothing and desensitizing Aloe vera, green tea and chamomile bring relief to the uncomfortable overexposure to the sun. Healing skin burns and the stinging sensation, this treatment heals, desensitizes and lowers your body temperature instantly at contact.
COCO WRAP
120 min.
Coconut is a natural moisturizer with a high level of water and minerals which induce dehydration as well as re-mineralization agent, helps regulate muscular tone and improves cardiac functions. as an antioxidant and regulates blood pressure due to its saturated fat which helps the body energy levels, all this can be found in coconut milk and its pulp.
YOUTH RECALL MOOR MUD
120 min.
Sunburned skin or alergies
This scientifically, holistic and healing black magma dates from the ancient civilizations, a warm and aromatic mud rich in natural vitamins and enzymes is generously applied to the complete body. Aching muscles and any pain sensation is healed while your body circulation is stimulated- making bone stress disappear, ideal for athletes and those suffering from chronic pains, rheumatism/arthritis, muscular fatigue and sports injuries.
** For Spa reservations, pricing and availability please contact front desk directly **

Healing
An upper state of wellness
-
AROMASTONE
90 min.
Maximum relaxation for women and men
Recommended for those who live with high stress levels and wish to release tension. You'll recover muscular tone and physical energy, but mostly it will calm your mind. Osteopathic techniques are combined with aromatherapy and a specialized massage using heated semi-precious stones to vary temperatures. An aroma stone treatment is a ticket to a deep relaxation and a sense of balance, it will give you the strength and vital energy you need to go on.
Quartz Bowl Therapy
60 min.
Experience of great physical and mental relaxation.
The sound that emanates from these bowls can be described as a crystalline harmony of peace that, used for a therapeutic purpose, can harmonize the subtle fields of the human being, help to restore or change the cellular memory and favor the states of healing, tranquility and self-knowledge; delivering an experience of great physical and mental relaxation.
HOT STONE
90 min.
Deep relaxation technique
The rock´s energy reminds us of our connection with mother earth. This ancient massage technique takes advantage of thermo therapy. Hot rocks are usually from basalt- a black volcanic rock rich in iron mainly because they absorb and maintain heat. River rocks are used because of their flat, soft surface due to the continuous river currents, the deep penetrating heat relaxes muscles, allowing activation points to dissolve and disappear with minimum effort. This therapy goes further than the physical experience of a common massage entering deeper dimensions of well-being.
** For Spa reservations, pricing and availability please contact front desk directly **

Hydrotherapy
The curative power of water
-
RELAXING THERAPY
120 min.
Lavender essential oil
Chamomile essential oil
Myrrh essential oil
Bugambilia flowers
SENSUAL THERAPHY
120 min.
Ylang-Ylang essential oil
Milk
Bugambilia flowers
Refreshing THERAPY
120 min.
Pine essential oil
Tangerine essential oil
Oregano essential oil
Bugambilia flowers
COUPLE'S THERAPY
120 min.
Choose from any of the above to enjoy with your loved one.
.
** For Spa reservations, pricing and availability please contact front desk directly **

Facials
Earth's ingredients for a natural detox
-
STRAWBERRY HYDRABOOST IN-SPA TREATMENT
Deep cleansing facial for any kind of skin using a strawberry face mask
Fighting environmental agents as well as hormonal variations, this treatment compensates the
effects of a high demanding and stressing schedule.
Enriched with vitamins, this facial begins with a gentle but effective cleansing, then an Enzymo-Spherides face mask is applied to remove accumulated dead cells and soften the hardened follicular remains. The skin rejoices while this deep cleansing process is followed by applying an antioxidant strawberry face mask with wonderful benefits desensitizing and recovering.
FACIAL DE LECHE DE COCO
Natural Moisturizer
This 100% natural facial restores and moisturizes the skin, preventing wrinkles, flaccidity and aging marks with its rich contents of elastin and vitamins a, b and c.
SENSITIVE SKIN FACIAL
Recommended for facial skin with acne
Sensitive skin calls for a special treatment, specialized ingredients and subtle techniques. This gentle treatment cleanses and exfoliates, while unclogging and blurring reddish skin while soothing irritation. A nutritive refreshing cream is applied then, followed by a sensitive skin lotion application to have your skin feeling fresh and at peace.
LUMINOUS & FIRM SKIN ELASTIN POLYPEPTIDES WITH SORGHUM
Reaffirms and rejuvenate the skin due to the loss of shine and elasticity
A powerful mix of treatments which visibly restores and moisturizes skin with a high concentration of sorghum (rich in vitamin B2 and C with a high level of polysaccharides). Combined with sorghum with many elastin polypeptides this powerful treatment helps effectively preventing elasticity loss and provides hydrating and reaffirming benefits for a firm appearance looking younger instantly.
LUMINOUS SKIN & SMOOTHED WRINKLES COLLAGEN POLYPEPTIDES WITH MYOXY-CAVIAR
For all kinds of skin, those lacking shine, wrinkled, tendency for dryness and long dehydration.
This rejuvenating treatment is ideal for skins which show signs of aging. a powerful anti aging ampoule is applied and massaged for its fast absorbance. works fastly to reduce fine line appearance, contains a highly concentrated polypeptide caviar and collagen formula and Hibiscus Esculentus extract for immediate results.
** FOR SPA RESERVATIONS, PRICING AND AVAILABILITY PLEASE CONTACT FRONT DESK DIRECTLY **

Specials
Back to life with our special treatments
-
MAYAN RITUAL
60 min / Energizing massage
Regain your strength with this liberating treatment which makes energy run smoothly in your system again.
As the Mayan did before, this treatment is done on the ground and uses stretching and pressure to relieve you from muscular stress, sink into the mayan world while wrapping you in the smell of incense and the hypnotic sounds of traditional pre-hispanic music.
A BED VERSION OF THIS MASSAGE CAN BE DONE IF PREFFRRED
REIKI
Reiki is and alternative therapy which relieves physical pain
In this technique, our guest is fully considered: body, mind and spirit. not only eliminating disease but it also helps to regain the natural balance state, promoting wellness and happiness. This treatment reduces stress; harmonizes, energizes and stabilizes, improves mental clarity and concentration for work/study. Helps and prevents treatments for migraine, depression, menstrual cramps and constipation.
MANICURE & PEDICURE
90 min.
Our hands and feet treatment incorporates complete therapy: exfoliation and hydrating mask, cleansing, polishing and varnish to the nails.
Luna de miel
Celebrating love
This is the perfect package for couples on honeymoon or just celebrating love, we´ll treat you like gods, inspiring you to feel the love, harmony and sensuality in the air. Treatment includes:
A relaxing couples massage
Bathtub with milk and bugambilia flowers and aromatherapy, facial for two
Schedule: Aqua Spa is open from 10 am to 9 pm
Reservations: we recommend making your reservation with at least 12 hours prior to your treatment.
Check in: please do this 15 minutes before so as not to take time from your treatment.
Dress code: we suggest you arrive wearing your swimsuit and a change of clothes for after the treatment.
Cancellation policy: 24 hours before is required to help you reprogram the service, subjected to availability, any cancellation with at least 4 hours will apply for a 50% charge, no shows will not apply for a refund in any case.
Smoking and drinking: is it forbidden to smoke/drink alcohol within the SPA, we suggest to not have heavy meals or drink alcohol at least one hour before service.
Special considerations: High blood pressure, heart problems, pregnant or any other medical issue will need to consult with your physician before any service and inform your therapist on any medical condition existent.
Valuables: a box for valuables is handed out to you, we suggest no jewelry is to be used in the SPA. staff or administrations will not be held responsible for the loss of money or valuables of any kind brought to the SPA facilities.
Our Yoga Shalla, inside Agua Spa, features daily yoga and meditation classes taught by accredited instructors.
Throughout the year Francesca organizes retreats at the hotel in collaboration with teachers, medicine women, shamans and spiritual guides from all around the world. Please follow us in Instagram and Facebook or suscribe to our Newsletter to keep posted about our special guests, classes and retreats.